Posteo de casos
¿Quieres compartir tu caso?
Última actualización
2018-10-03 15:31:19
0 Vídeos / 24 Imágenes
IMPLANTES INMEDIATOS MEDIANTE SHOCKET SHIELD/ INMEDIATE IMPLANTS WITH SHOCKET SHIELD TECHNIQUE
Dear friends of oral surgery tube,
  Due to demands, here I post a case in the anterior region, with shocket shield technique.
   This patient  was refered to me, difficult woman 50 years old, demanding high esthetique result.
   No medical problems, but not good oral hygiene, at least in the anterior region.
   She was wearing a fixed bridge , recemented 3 or 4 times, with impossible treatment in words of her prosthodontic Doctor.
   Eventhough we did perio treatment and scaling before treatment, she presented like this the day of surgery.
   Planning treatment was:
  1-  Extractions of 11-21-13-15, shocket shield technique in 11-21-13
       During surgery, we saw an ancient abscess with buccal fenestration on the front area of 21, so we did not do a shocket shield in this area.
  2- Inmediate placement of 4 AVINENT implants in 11-21-13 and 16
  3-  Autologous bone regeneration with chips bone scraped with backaction instrument and bone from the tuberosity.
  4- Layer technique with Bio Oss and collagen membrane in the area of tooth 13
  5- Filling the alveolar shockets with autologous bone chips and Bio Oss on top of them.
  6- Connective Tissue grafts
  7- We refered the patient to her prosthodonthic Dr for inmediate loading.
    Thanks all, all the best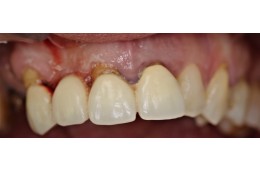 Votos
Comentarios (3)

Añadir un comentario